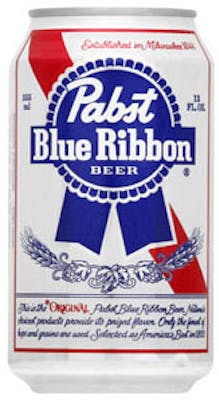 SKU: 2210000170
Pabst Brewing Company Blue Ribbon Beer
---
---
Pabst Blue Ribbon is a premium lager brew crafted with a hefty infusion of 6-row barley in its ingredient package, a carefully balanced carbohydrate profile from corn syrup, and a unique combination of Pacific domestic hops blended with an imported Yugoslavian variety. Fermented with a pure culture of yeast and aged at high gravity, PBR is cellared and finished to the smooth, robust likeness of a fine Pilsner.
Pabst Blue Ribbon is brewed in the finest traditions of an American Premium Lager dating back to 1844. Brewed with a combination of 2 & 6-row malted barley, select cereal grains and American and European hops, Pabst Blue Ribbon is fermented with a proprietary lager yeast. Our unique fermentation and maturation process results in a smooth, full bodied beer with a clean, crisp finish with a fine noble hop aroma. - ABV% 4.74 - Calories 144
Are you 21 years old, or older?