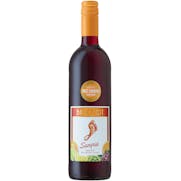 Barefoot Sangria 750ml
A wine from California.
Loaded with all the same fruit-filled flavor of the classic (with none of the prep work), Barefoot S…

Ed Hardy Sangria 500ml
A Sangria wine from France.
Bursting with the sun drenched flavors of a hot Spanish summer, this Sangria is a refreshing blend o…
Yago Sant'Gria 750ml
A Sangria wine from Spain.
With its fresh, fruity flavor, Yago Sant' Gria is the perfect sangria for any occasion! Yago's blend…