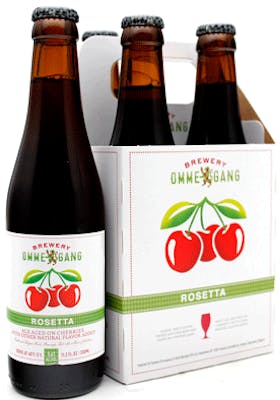 SKU: 2731
Ommegang Rosetta
---
---
Meet Rosetta, a traditional Belgian Kriek, blended to perfection by our sister brewery Liefmans, and available now in our regular distribution footprint. Leinhart's recipe calls for a perfectly balanced blend of old (aged on cherries at least three years) and young Flemish brown ale (or oud bruin) with a lively and fruity kriek, or cherry beer. The result is a complex yet refreshing mahogany-brown brew that is an intriguing interplay of tartness and sweetness. Its elegance and depth would make Madame Rosa Merckx proud - Liefmans' former Brewmaster and the first Belgian woman with that title in whose honor the beer is named.
A combination of Oud Bruin and Kriek, blended and aged to create a well balanced Flemish Brown Ale.
Are you 21 years old, or older?